Your Partner in Providing On-Site Solutions
Colonial Construction Materials is your One-Stop-Shop for Geotextiles, Erosion Control Products, Landscape Supplies and Stormwater Solutions
Master Distributor of Construction Materials
Colonial Construction Materials supplies site work products that control erosion, stabilize soil and manage stormwater. With our fleet of trucks, network of distributors and centrally located warehouses we meet your demand for service and quality on every construction project.
What Site Work Solutions Do You Need?
Safety & Additional Products
Need a price?
Contact our sales team to get started.
We'll discuss your project, answer questions and provide pricing for stocked and custom solutions.
What's Your Specialty?
We work with teams across all sectors of construction. Pick your specialty to view related projects.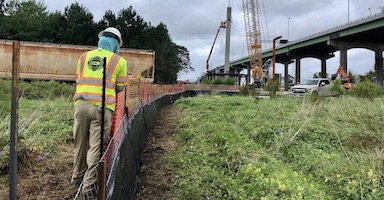 Heavy Civil
Our Heavy Civil projects include transportation and infrastructure projects. Take a look at our portfolio of bridge replacements and highway expansions.
Energy
If you are looking for a partner for solar farm construction, power plants or transmission lines in the Mid-Atlantic, we're the answer. Explore our experience with energy projects.
Environmental Restoration
We work alongside heavy construction contractors, engineers and environmental organizations to restore our environment to its natural splendor.
Commercial Construction
We supply general contractors and sub-contractors with material for mixed-use developments, industrial parks and other commercial developments.
Government
Government construction projects include hospitals, police precincts and educational institutions. This includes a mix of federal, state and municipal work.
Residential Construction
Our residential portfolio includes subdivisions, multi-family developments, home hardscape projects and single-family home construction.
Featured Project
Spotsylvania Solar Farm
As the largest solar farm east of the Rockies, the Spotsylvania Energy Center is a 617 MW solar farm that encompasses approximately 6,350 acres in northern Virginia.
Technical Support You Can Count On
Our sales team is available to answer your questions, offer support and provide technical assistance. We also supply Cheat Sheets, Specifications and Buying Guides so you can always have up-to-date access to industry resources.
Recent Articles
Compare Our Top Erosion Control Wattles Straw Wattles, Excelsior Logs and Compost Filter Silt Sock…