Your Partner for Construction Fence and Fence Posts
Construction fence secures job sites, reinforces perimeters and protects sensitive areas. Our inventory of temporary fence includes chain link, plastic barrier fence and welded wire fence. Many of the perimeter control products we supply are customizable to meet your specific needs.
Explore Our Selection of Construction Fence
Learn More About Construction Fence
Read more about customizing temporary fence and selecting the right fence for your construction project.
Recent Articles
Temporary fence creates a non-permanent perimeter around construction sites. Examples of temporary fences include silt…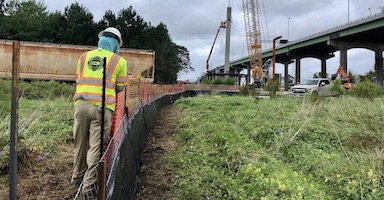 Silt Fence fabric is a requirement for most construction sites in the Mid-Atlantic and Southeast….
Need help?
Contact our sales team to get started.