17 May

Customize Temporary Fence
Temporary fence creates a non-permanent perimeter around construction sites. Examples of temporary fences include silt fence, chain link fence, barrier fence and welded wire fence. All of these fences can be easily removed and are not meant to last forever.
Some temporary fences, like silt fence for example, control erosion and provide perimeter control. Temporary fence's primary function, however, is to establish a perimeter in order to maintain a secure construction site.
Is Custom Perimeter Control Right for You?
There are a few reasons why you should consider customizing your temporary fence. We recommend custom solutions for the following situations:
Long-term projects
High visibility construction sites
Major commercial developments
Housing developments and subdivisions
New companies
Long Term Projects
Although temporary fence is not meant to last forever, sometimes construction projects last for many months and even years. If you are the owner or a General Contractor on a mega-project, adding a logo silt fence or custom fence screen maximizes your visibility through all phases of construction.
High Visibility Construction Sites
That leads us to point number two. Is your site on a major roadway that gets a lot of vehicular or pedestrian traffic? A customized temporary fence puts your company name in front of every passerby, resulting in maximum brand exposure. For this application, we recommend a logo silt fence with a website included. If the site is wrapped with temporary chain link, add logos for the developer, general contractor and other key players.
Commercial Developments
Some of our favorite custom fence screen projects have advertised the plans for a new commercial development.
Custom designs are printed edge to edge on vinyl wind screen panels that attach to the temporary chain link. This allows the community to see the new development plans instead of a construction site.
Housing Developments and Subdivisions
Logo silt fence is a popular option for housing developments and subdivisions.
When you add your logo to the already required silt fence fabric, contractors, suppliers and homeowners associate your name and brand with the construction project. Logo silt fence is the simplest and most affordable way to customize your temporary fence.
New Company
We also suggest custom temporary fence for new companies that need brand exposure. This is especially important if your project is in a high visibility area. Make sure everyone knows that your company is the proud contractor behind a new construction project. Adding a website or phone number to your logo maximizes exposure.
Temporary Fence You Can Easily Customize
If you think custom perimeter control is right for you, it's time to decide how to do it. There are several options when it comes products and customizations.
Logo Silt Fence
Adding a logo to silt fence is the simplest and most affordable way to customize temporary fence. We print Logo Silt Fence in our warehouse in Oilville, Virginia on a variety of silt fence fabrics.
Although we call it "Logo Silt Fence" you can actually add a phone number, slogan or website to your silt fence – as long as space permits.
If you are interested in customizing your silt fence, the process will look like this:
1. Decide what silt fence fabric you need
Choose from Black Silt Fence, Orange Silt Fence, DOT Fence, Super Silt Fence, or a Specialty Silt Fence (WBSF or 400EO SF).
Black logos will be printed on Orange Silt Fence and white logos on all other fabrics.
2. Choose your design
Most contractors choose to simply use their logo but we can also add websites, phone numbers and slogans. You will provide us with a JPEG, PNG or PDF of your logo so we can provide you with a proof.
3. Approve your proof and quote
Your plate proof includes design and the cost to produce the custom silt fence plate. Most plates cost around $400 – $500 depending on the complexity of design.
Once that is approved, we will order your plate to keep on hand in our Oilville warehouse. There is a one-time plate set-up fee that will be billed with your first order.
4. We print your silt fence
Once we receive your plate, we'll print your custom silt fence in our Oilville warehouse. All logo silt fence orders must be for a full pallet which is 9,900 linear feet.
Custom Fence Screen for Temporary Chain Link Fence
Another way to customize your perimeter control is to add a custom fence screen to temporary chain link fence. If you need a simple wind screen that blocks visibility and UV rays, choose a black or green fence screen. For a custom solution, consider adding a caution wind screen, a logo or development plans.
Caution Windscreen
A Caution Windscreen is great for the construction entrances. Attach the custom fabricated fence screen panel to your chain link swing gate with zip ties. The Caution Windscreen reminds visitors about safety requirements, working hours, delivery instructions and other relevant site details.
Caution Fence Screen is made to fit the size of your temporary chain link swing gate so it is available in multiple sizes.
Custom Printed Fence Screen
Add a customized wind screen to temporary chain link for privacy and promotion. A fence screen blocks visibility to create a more secure construction zone while also minimizing wind and sun exposure. When you add a logo or construction rendering, you maximize your company's visibility and potentially attract new clients.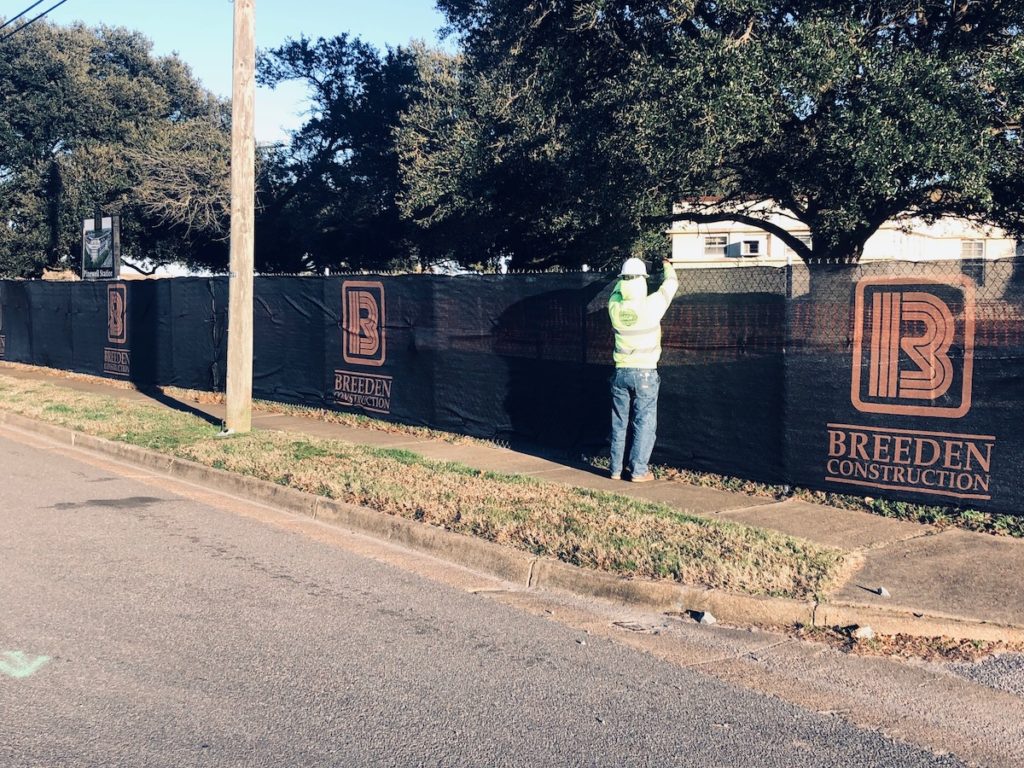 There are far more options for custom fence screen than there is for custom silt fence.
Fence screen customization options include:
Material selection: mesh or vinyl
Blockage: 80%, 88%, 90%, 100%
Expected Lifespan: 1-3 years or 3-5 years
Airflow: no flow, good flow, moderate flow, excellent flow
Artwork: add a logo or an edge-to-edge full color image
Logo connection: stitched or printed
If you're not sure what fence screen you need, our sales team can talk you through the best options for your budget and site conditions.
Start with a Quote Request
Ready to get started? Tell us about your project and we will provide you with a price and proof for your custom perimeter control product.
Explore More Fence Products
Wire Fence
Chain Link
Barrier Fence