Every construction project needs site-work solutions. We supply Erosion Control Products, Stormwater BMPs, Geotextiles and Landscape Supplies to projects across all construction sectors in the Mid-Atlantic.
With every project you can trust Colonial Construction Materials to provide competitive pricing, quality products, industry leading technical support and dependable service.
Explore Projects by Sector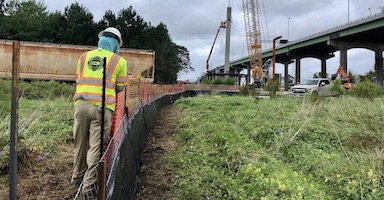 Heavy Civil
Discover our completed Heavy Civil projects including bridge replacements, highway expansions.
Energy
Our energy portfolio includes renewable energy sites and traditional energy projects.
Environmental Restoration
Explore stream restorations and other environmental resiliency projects.
Commercial Construction
Our commercial construction portfolio includes mixed-use developments, retail, industrial parks and business offices.
Government
Find out how geosynthetics have been incorporated into government construction projects including hospitals, and police precincts.
Residential
Explore residential projects including subdivisions, apartment complexes, multi-family housing and residential landscaping projects.
We work with general contractors, civil contractors, utility contractors, landscapers, homeowners, and everyone in between. That's because we believe everyone deserves quality products at competitive prices, regardless of project scope or business size.
Are you bidding a project?
Our estimators are trained to review construction project plans and identify the BMPs you will need. After reviewing plans, we will provide a free quote for the cost of materials.
Already on a project?
Our sales team has thirty years of experience controlling erosion and managing stormwater runoff on construction sites.
We conduct site visits, review project plans and consult our engineering partners in order to supply you with the best solution.