Our Work
Every construction project needs site-work solutions. We supply Erosion Control Products, Stormwater BMPs, Geotextiles and Landscape Supplies to projects across all construction sectors in the Mid-Atlantic.
With every project you can trust Colonial Construction Materials to provide competitive pricing, quality products, industry leading technical support and dependable service.
Explore Projects by Sector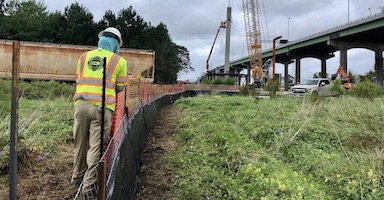 Heavy Civil
Discover our completed Heavy Civil projects including bridge replacements, highway expansions.
Energy
Our energy portfolio includes renewable energy sites and traditional energy projects.
Environmental Restoration
Explore stream restorations and other environmental resiliency projects.
Commercial Construction
Our commercial construction portfolio includes mixed-use developments, retail, industrial parks and business offices.
Government
Find out how geosynthetics have been incorporated into government construction projects including hospitals, and police precincts.
Residential
Explore residential projects including subdivisions, apartment complexes, multi-family housing and residential landscaping projects.
Want to Work Together?
If you're looking for a partner in the site-work industry, let's work together. We supply Mid-Atlantic contractors with the material and prices you need to get the job done.
What We Will Provide You
Competitive Pricing
Our estimators are trained to review construction project plans to identify the BMPs you need. After reviewing plans, we will provide a free quote for the cost of materials.
Design Support
If your project is over-budget or if the specified product isn't working, our team can help. We collaborate with engineers, manufacturers and contractors to identify the right product for the problem and the budget.
Timely Service
We deliver erosion control products, geotextiles and stormwater solutions throughout the Mid-Atlantic. We also offer LTL shipping and customer pick up at our warehouses.
Industry Partner
Our customers know they can trust our service and industry experience which is why we still work with many of the same customers that we originally supplied when we first opened our doors.
Who We Work With
We work with general contractors, civil contractors, utility contractors, landscapers, homeowners, and everyone in between. That's because we believe everyone deserves quality products at competitive prices, regardless of project scope or business size.